Shikha Mehra

Certified Bitcoin professional & International Blockchain expert
Co-founder, MainChain
INK Fellow, 2018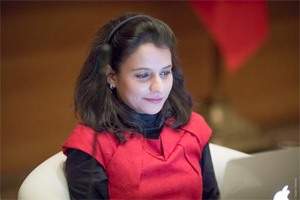 Shikha Mehra, a certified Bitcoin professional and co-founder of MainChain Research & Consulting, is a prominent figure in the Blockchain and Crypto Currency network. She's on the advisory panel to IAMAI's (Internet & Mobile Association of India) subcommittee on crypto currency and blockchain. As a subject expert, she is actively involved in the international crypto-ecosystem as a writer and speaker, engaging with businesses, users and revenue officials on the conceptual, technological and regulatory evolution of Crypto Currencies and the underlying Distributed Ledger Technology.
Shikha is a member of a global multi-stakeholder committee – a joint collaboration between Vienna University, Austria and NET (new economy taxation) which explores how businesses and tax administrations around the world are reacting to and managing the disruptive effect of new and emerging business models and Blockchain technology in Asia.
Prior to this, Shikha had 3-years' experience in corporate law practice and policy work at the IICA (Indian Institute of Corporate Affairs). Shikha has also held a faculty position at the Jindal Global Law School. Shikha holds degrees in Bachelor of Economics and Physics at the University of Pennsylvania; as well as LLB and LLM from the Jindal Global Law School, specializing in Tax Law.

Recent Engagements
Government, Parliamentary & Industry Bodies:
State Duma of the Russian Federation: 'Promises & Perils of Cryptocurrencies', Dec 2017
OECD Roundtable on Digital Financial Assets & the OECD Roundtable on Responsible Tax and the Digital Economy, Paris, July 2018
Wilton Park Dialogue: 'Tax & Blockchain', Nov 2017 (Foreign and Commonwealth Office, UK Government)
Invited as a keynote speaker at the London Blockchain Summit – Blockchain & the Tragedy of the Commons, March 2020
Confederation of Indian Industries (CII- Young Indians Chapter) – TakePride 2019, Goa, March 2019
Institute of Chartered Accounts of India (ICAI) - Keynote Speaker, Blockchain in Fintech Innovations & Evolving Regulatory Framework, Mumbai, July 2019
IIHMR University – Annual International Healthcare Conference, Jaipur, November 2019
Digital Economy Taxation Conference (AI, Robotics, Data Analytics) organized by the Vienna University, Switzerland, Oct 2019
Huddle K organized by the Kerala Startup Mission & IAMAI, FinTech Panel, Kerala, September 2019
International Tax Research & Analysis Foundation (ITRAF) – Panel Discussion on Digital Economy & Global Challenges going forward, Bangalore, August 2019
Start-up Festival on Future of Money & Inside Fintech: 'Blockchain & Identity Management', Seoul, Dec 2017 (inaugurated by the South Korean President)
European Financial Market Symposium: 'Central Bank Digital Currencies & Monetary Policies', Austria, August 2018
Digital Symposium, Singapore Aug 2017 (organized by the former director, Centre for Tax Policy, OECD)
FICCI YFLO , Blockchain Event, Delhi, Oct 2018
International Tax Conference, Mumbai, Dec 2017
India Digital Summit organized by IAMAI, Delhi, Jan 2018
International Fiscal Association (IFA) India, Apr 2018
IFA conference in Mauritius on Crypto Currencies: Financial Crimes & Regulatory Landscape, May 2017, May 2018 & May 2019
Retail Investors & Business Platforms
Fortune Asia: 'Blockchain & Identity Management', Delhi NCR, Feb 2019
Black Arrow Blockchain Series, Mumbai, Feb 2019
VALUEx Kazakhastan, presentation on "Primitive Monies, Blockchain & Nash Equilibrium" , April 2018
YPO Delhi / YPO Bangalore / YPO Chennai / EO Delhi / EO Goa Chapter Events, April 2017 – May 2020
Avendus Wealth Management Investor Presentations, Mar 2018
Training Workshops Conducted
Blockchain & Crypto Masterclass for University of Lausanne Master's level students, Switzerland, May 2020
Learning Seminar for Indian Chambers of Commerce (Young Leaders Forum), Mar 2018
Training Seminar for S.P. Jain University (Mumbai), March, 2018 & Dec 2018
Learning Series conducted for the Institute of Chartered Accounts of India (ICAI), Feb 2018
Vivekananda International Foundation: Director, Mr. Arvind Gupta (former deputy NSA), Jan 2018
Tax training on GST to State Civil Service Officers in India & at the CII (Confederation of Indian Industries), Nov 2017
CBEI–Central Bureau of Economic Intelligence, Nov 2017
Links to her presentations, interviews and papers can be found at:
Megha Ansal (Co-Founder)
Ms. Ansal is the co-founder of MainChain Research & Consulting and focuses on the Business Development, Finance & Marketing of MainChain. Megha is a graduate from the Wharton Business School with a major in Finance & Accounting. Prior to co-founding MainChain she worked with Goldman Sachs New York, in their Investment Banking division and has more recently worked extensively in the Real Estate development space in India.